CCAE is deeply thankful to TD Insurance Meloche Monnex for its commitment to the Fellowship program.
TD Insurance Meloche Monnex Fellowships in Advancement, created in 1998 and made possible by Meloche Monnex and TD Bank Financial Group, have evolved over the years to reflect the growing scope and sophistication of educational advancement in Canada.
TD Insurance Meloche Monnex Fellowships in Advancement provide exceptional opportunities each year for up to, two emerging professionals to gain practical experience in at least two major areas of advancement.
The selection process for TD Insurance Meloche Monnex Fellows in Advancement involves an application by a CCAE member educational institution (university, college, independent school or cégep) with a robust Fellowship plan backed by the mentorship of senior advancement professionals, and a candidate of exceptional aptitude and energy for a bright future in advancement.
2021 & 2022 Fellowship Recipients
Jaya Dhillon
Kwantlen Polytechnic University
Read more
When you think about the passion that it takes to make a difference in the advancement sector, Jaya Dhillon of Kwantlen Polytechnic University surmounts all expectations.
In every area Dhillon has touched at KPU, great strides have been made. From sharpening her perception and observation skillset within her anthropology studies, to empowering herself and the institution by becoming involved in student political experiences, Dhillon is unstoppable in her abilities to pursue, seek out and make change. Along the way, in her journey to becoming the President of the Student Council at KPU, she broke barriers to enact change in policies surrounding the reach, equity, diversity, inclusion and accessibility of scholarships, and additionally creating new endowed awards for students with disabilities, students who identify as people of colour, LGBTQ+ and International students.
Wherever she involves herself, it is noted she is not just talking the talk but walking the walk, and in her efforts create astounding impacts for all. With Dhillon's sights now turned to the advancement field, at an extreme time of challenges for all due to the pandemic, her mark within the sector is set to take on new heights. As a student intern she got her hands and her creative mind in tune with annual giving and assisted in an exceptional Giving Tuesday campaign that not only bolstered alumni engagement, but also spurred giving internally from staff & faculty.
"With all of my experiences, I have integrated my skills in various ways and will continue to implement those skills in the future. My goal is not only to create equal opportunities but to also create awareness about the barriers put into place. These barriers are often not noticed thus minimal changes are being made. The pandemic has highlighted the challenges for many students, including me, and I believe I provide the unique perspective, leadership qualities, and the willingness to take action to make a change."
Those who have had the pleasure of working with Dhillon agree, her passion, drive, and lived experience set her ahead of the average student.
Professor Sarah Fessenden, PhD, Faculty of Anthropology at Kwantlen Polytechnic University regales on her time with Dhillon as a student:
"Ms. Dhillon is an eager learner and driven student who not only seeks new knowledge but applies it to pressing social justice problems specifically related to access and diversity. She is a model KPU student who makes "thought meet action" as she has reached out beyond the university to enhance accessibility for those with disability needs. Ms. Dhillon has stood with her creative inquiry and applied engagement."
Benjamin Newsom, Executive Director of the Kwantlen Student Association, who worked with Dhillon for over two years is again awestruck by her initiative stating:
"As a Council member Jaya has put a great deal of time and effort representing students with disabilities and ensuring we could advocate as best we could for their needs. She has been an instrumental member on Governance committee during this time recommending and implementing policy changes that have led to increased confidence in our democratic structures, and enhanced support for her fellow member of Council."
Understanding the challenges the advancement sector faces, and what is required to make a true impact within, is an asset of any recipient of the fellowship. TD Insurance Meloche Monnex and CCAE are honoured to provide Jaya Dhillon the opportunity of the fellowship and know that the work she will produce will be go beyond any expectations of excellence and ingenuity.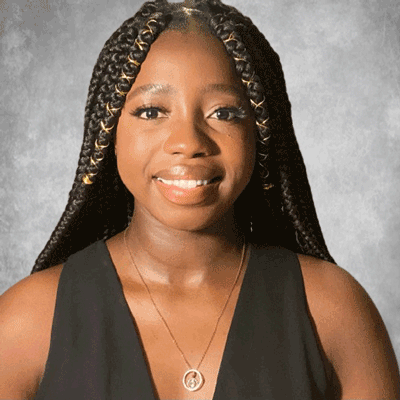 Catherine Haba
Queen's University
Read more
An extremely strong advocate, scholar, and leader, Catherine Haba understands the true meaning of creating change for the Canadian Education sector and is a person who genuinely strives to make the world a better place.
Haba's skillset is vast, and she has always been drawn to opportunities that allow her to utilize her passion and experience to enact positive transformation. She already encompasses a great level of understanding advancement through her professional experience in the non-profit sector at the United Way/Centraide Ottawa, and within Health Canada.
"In my current position as a Compensation Assistant for Health Canada, I routinely understand and deal with large volumes of time-sensitive human resource issues that require keen strategic thinking, emotional intelligence, and an ability to be self-motivated. My accumulated experience and skills in this role alone strengthened my ability to be successful in the field of advancement which involves multiple moving parts and interpersonal effective stakeholder communication."
While studying Global Development at Queen's University, Haba helped to remove barriers to support her fellow student's success through mental health and inclusivity initiatives. Haba co-wrote and developed a strategy for Equity, Diversity, Inclusion, and Indigeneity (EDII) issues as an undergraduate representative for the Faculty of Arts and Science. Her advocacy and leadership within volunteer positions shone even brighter as Vice-President of the Queen's Black Alumni Chapter, where she developed strategies to engage alumni. In addition, as President of the Queen's Black Academic Society (QBAS), she successfully lobbied for the creation of two additional admission awards aimed at diversifying student recruitment, and led a call to action in response to the Black Lives Matters movement that motivated Queen's students and alumni to raise over $30,000.
These accomplishments along with so many others have garnered Haba an outstanding reputation within the Queen's University community and beyond. In 2021 she received the Agnes Benidickson Tricolour Award, the highest tribute given by Queen's to a student for distinguished service to the university, in 2017 she received the United Way Community Builder award and was named a delegate for Canada at the 2017 Youth Assembly at the United Nations in New York City.
From colleagues to community leaders the impact she has made is widespread. Haba's colleagues from Queen's University share in providing insight into her accomplishments and why she is bar none a perfect recipient of the fellowship program:
"In her first year on QBAS she constantly went above and beyond her responsibilities. She truly helped to foster a strong relationship amongst not only Black first years, but all first years of colour, as she encouraged the collaboration with several different minority cultural clubs on campus. Due to her professionalism and overall skill, Catherine was then hired as the head of the QBAS' conference team. While I was an alumnus the year she served in this role, I continued to work closely with the Society as an advisor. The conference that year, which focused on embracing Blackness in institutions, was a success, primarily due to Catherine's leadership and vision. She worked passionately and tirelessly to create impactful workshops that were led by dynamic speakers."
Nyah Hernandez, MA, Vice-President of Operations, Queen's Black Alumni Chapter (QBAC)
"Ms. Haba is recognized by her peers as a leading presence in the BIPOC community. As part of
her commitment to serving those who are too often underserved, Ms. Haba is intentional about
providing mentorship and support to new students who share a desire to give back and to get
involved. For those seeking to lead, she is a role model; for those seeking understanding and
support, she is a beacon of kindness, a trusted advisor, and a friend… Queen's owes a great debt to students like Ms. Haba whose passion for justice and hope for a better future are steadily improving the university's capacity for genuine welcome and engagement of diversity in all its forms. She is an impactful leader, one who continues to grow and to influence change at every opportunity. I believe that individuals like Ms. Haba, with her unique insight and strong leadership background, are the future of educational advancement."
Stephanie Simpson, Associate Vice-Principal (Human Rights, Equity and Inclusion), Queen's University
On behalf of TD Insurance Meloche Monnex, congratulations Catherine Haba. CCAE is thrilled to have you be a part of the 2022 fellowship program and cannot wait to see the impact you will provide within the Canadian advancement sector.
Lana Dadson
University of Waterloo
Read more
A soon-to-be University of Waterloo graduate, in Political Science & Business with Cooperative Education, Lana Dadson is determined to build a career in institutional advancement. Lana began her fundraising career at the exceptionally early age of 8 years old. As a young figure skater Lana fundraised for her local ice rink by selling raffle tickets door-to-door. Her passion did not stop there, she continued during high school, where she solicited donations to raise up to $100,000 per year for the Kinetic Knights Robotics charity.
Looking back at her first aspirations for educational Advancement Lana regales:
"It wasn't until I spent my first co-operative education term working with the University of Waterloo's Faculty of Environment Advancement team that I discovered the possibility of a career in fundraising for higher education. Since then, I have committed myself to becoming the best fundraiser I can be by volunteering my time with nonprofits, spending my final two co-op terms with the University of Waterloo's Central Development and Annual Giving teams, joining my local Association of Fundraising Professionals (AFP) chapter, volunteering with AFP Canada's Government Relations Committee, and planning for a future Master of Philanthropy and Nonprofit Leadership degree."
In 2020, Lana worked in the Office of Advancement at the University of Waterloo, during a time of major organizational change due to the COVID-19 pandemic. She took the constant changes in stride and became a massive source of support for the University's advancement team, and established a reputation for producing timely, high-quality work.
Recently, Lana served as a Development & Communications volunteer for Maya Traditions Foundation (MTF), in Guatemala where she helped raise over $55,000. Her drive and commitment to fundraising enamored her colleagues within this position as well.
"Lana clearly understands that successful fundraising is multifaceted, and she does not shy away from challenges that may extend the execution of a project or activity. It is apparent she cares about her quality of work to ensure the organization benefits from it. Her support has helped us achieve milestones and I am incredibly grateful to work with someone I can count on."
Misty Lopez, Executive Director, Maya Traditions Foundation (MTF)
During her fellowship year Lana will be mentored, experience a bevy of professional learning opportunities, and will play a critical role within two departments at the University of Waterloo, the Office of Advancement and the Faculty of Environment Advancement office. Lana will build new foundational knowledge about advancement for faculties and for academic support units, such as, library, athletics, alumni relations, communications, project management, and people management.
Simply put by Maryam Latifpoor-Keparoutis, Director of Advancement, Faculty of Environment, at the University of Waterloo:
"Lana was meant for the profession, and has continued to show clear signs of leadership and commitment to impacting change through volunteerism and fundraising."
CCAE, and TD Insurance Meloche Monnex look forward to seeing the strides Lana Dadson will create in her fellowship year and are thrilled to aid the aspirations of a budding (yet highly experienced) advancement professional.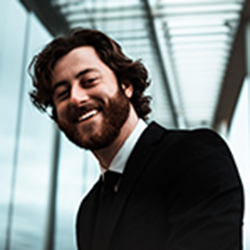 Kierian Turner
University of Lethbridge
Read more
Kierian Turner is an engaged and enthusiastic leader who values perseverance, integrity, and empathy, and is set to further his passion within advancement as a 2021 TD Insurance Meloche Monnex fellow.
An esteemed graduate of the Digital Audio Arts degree programme in the Music Department of the University of Lethbridge, Kierian possesses innate agility and dedication within all he aspires to accomplish. As a student leader he excelled in student engagement, relationship-building and event management with a proven track record in program development and execution.
Under his leadership he founded and was the first president of PACT (Philanthropy, Advancement, Community and Traditions) at the University of Lethbridge. In the first year of the club's existence, he led the executive to develop and execute two new programs that supported the connection between students and alumni and promoted young alumni giving.
Kierian sees the connection between the Universities work in advancement and other business units, which provides an integral understanding of the importance of alumni engagement, and why affinity needs to be fostered during the student experience.
"I learned a great deal during my inaugural PACT presidency, but perhaps the greatest revelation was the degree to which our community is eager to give back time, talent and treasure to offer support to students. This shared belief will be the guiding light of my fellowship, especially as members of our University community look to one another for support during this especially difficult year."
During his studies Kierian gained many accolades & awards including: 2020 Department of Music Most Distinguished Student; 2019 MusiCounts Scholarship, 2019 Fine Arts, and the Arts and Science Shining Student, and was the recipient of the 2018 Joyce & Ron Sakamoto prize for Research and Development in Digital Audio Arts.
Kierian holds an outstanding academic track record, maintaining a 4.0 GPA during four consecutive terms, all while attending to the comprehensive engagement across diverse activities. His professors, colleagues, and everyone he worked with were touched by Kierian's glowing leadership and congenial take charge attitude.
"Through his absolute determination, Kierian made the most of his experience as a student, as an industry professional, and as a university employee and volunteer. Having a student like Kierian Turner, with sheer determination and ambition, is what every instructor hopes for ‒ a student who is destined to surpass expectations and at the same time, a student who is open to new avenues of acquiring knowledge and skill."
Dr. D. Andrew Stewart, Orchestral, chamber, interactive music composer and digital instrumentalist; Associate Professor, Music and Digital Audio Arts, University of Lethbridge; Collaborator, The Centre for Interdisciplinary Research in Music Media and Technology, McGill University; Collaborator, Hexagram, Concordia University; Associate Composer, Canadian Music Centre
In addition to his student experience, Kierian continued to receive glowing recommendations for his work within advancement, first within the student call centre, and most currently as an Alumni Engagement Assistant for the University of Lethbridge.
"His knowledge of the inner-workings of advancement combined with his cross-institutional experience are just what we need to steward the University of Lethbridge towards a culture of philanthropy. Kierian is an exceptional young leader with unmatched enthusiasm, and I can guarantee he is worthy of this fellowship."
Lyndsay Montina, Manager, Alumni Relations, University Advancement, University of Lethbridge
Looking forward to his fellowship year, Kierian is excited to lay the groundwork for the creation of a culture of philanthropy amongst students. This will be done by conducting a research project that ultimately informs a student engagement plan tied to the University's first Annual Day of Giving. The proposed project will be foundational in building an environment where students understand, celebrate, and engage with philanthropy while simultaneously building stronger affinity.
Kierian's leadership, congeniality and professionalism is highly respected and as Cheri Pokarney, General Manager of the University of Lethbridge's Student Union indicates "If his performance at the Student's Union is any indication of his future potential he will continue to be a respected, engaging employee and community leader, and he will be an asset to any workforce in the future."
CCAE and TD Insurance Meloche Monnex are extremely honoured to welcome Kierian Turner into the Fellowship family and we cannot wait to watch him excel at the University of Lethbridge and wherever his bright future takes him.
Past Winners
2020
Zachary Robertson
Southern Alberta Institute of Technology (SAIT)
Miruna Timotin
New Brunswick Community College (NBCC)
2019
Karissa Hartley
University of Lethbridge
Jenna Kirker
Lakehead University
2018
Susan MacCormack
Saint Mary's University
Christian Robillard
Carleton University
2017
Anne-Marie Aguilar
University of Alberta
Sarah Carthy
Trent University
2016
Kara Reynolds
St. Lawrence College
Stacey deMolitor
Mount Saint Vincent University
2015
Jenifer Sibdhannie
University of Waterloo
Ashley Childs
Dalhousie University
2014
Megan Hughes
University of Guelph
Pauline Waggott
University of New Brunswick - Saint John
2013
Sarah K. Halliday
Memorial University of Newfoundland and Labrador
Julie Phillips
University of Calgary
2012
Jill (Konduc) Buehler
Okanagan College
Matthew Prowse
Carleton University
2011
Murphy Champagne
Cambrian College
Trina Prince
Nipissing University
2010
Maude N. Béland
Université de Québec à Montréal
Michael Duncan
University of British Columbia
Erica Lind
University of Lethbridge
2009
Erica Lind
University of Lethbridge
Meaghan Moore
Brock University
Allison Williams
Queen's University
2006
Darcy McMeekin
Memorial University of Newfoundland
Fiona A. Munroe
University of New Brunswick
Jylian Russell
Mount Royal College
2005
Janet N. Chong
University of British Columbia
Andrew Christie
Carleton University
Rosa Duran
George Brown College
2002
Katy Mahon
St. Francis Xavier University
Scott Courtice
Queen's University
Caroline Tremblay, Université d'Ottawa
2001
Lori Lynn Ojala
Laurentian University
Kathryn J. Wood
Brescia College of The University of Western
Gordon McLean
Lakehead University
2000
Lisa Ayre
Carleton University
Donna Campbell
Assiniboine Community College
Lamis Subai
Concordia University
1999
Julian Demkiw
University of Saskatchewan
Athena Kreiner
University of New Brunswick
Julie Marcoux
Laval University
A TD Insurance Meloche Monnex Fellowship in Advancement is tenable at any member institution: university, college, institute, polytechnic, independent school, or cégep, which is a member in good standing of CCAE and which is willing and able to assume the responsibilities of acting as a host training institution.
Up to, two Fellowships will be awarded annually, on merit, and will be allotted with due consideration given to geographic and linguistic diversity. The Fellowships may be held for a maximum of one year. Total value of each one-year Fellowship is established at $37,500. TD Insurance through CCAE will provide this amount to the selected member institution. Of this amount, $32,500 will be paid as a bursary to the Fellow. The Fellowship includes $5,000 that will be used by the institution to defray conference, travel and training costs for the Fellow. Additional funds provided to the Fellow are at the discretion of the host institution.
Candidates are required to attend two annual CCAE national conferences, at the beginning of the Fellowship year and at the end of the Fellowship year. The host institution is responsible for arranging for its Fellowship holder to attend these sessions and the conferences.
The host institution will ensure that the Fellowship holders submit two mid-term reports and one final report to CCAE.
2023 Application Deadline: December 15, 2022 
The Candidate
At the time of application, the candidate must be a Canadian citizen or have obtained permanent residency status in Canada.
At the time the Fellowship is assumed, the Candidate must have completed all requirements for a diploma or degree from an accredited Canadian university, college or cégep within the past five years, (e.g. 2017-2022), and/or that is scheduled to graduate by Spring of 2023.
The Candidate must not have held a full time, permanent position in institutional advancement prior to application (contract positions are acceptable).
The Candidate agrees to submit to CCAE one mid-term reports (November 30) and a final report at the completion of the program (May 31).
The Candidate agrees to attend 2 CCAE National Conferences: for the presentation of the Fellowship at the beginning of the term and for a report on the Fellowship at the end of the term.
The Candidate will provide all information requested on the candidate section of the application located in the TD Insurance Meloche Monnex Fellowship in Advancement Package.
Host Institution
The host institution agrees to host a Fellow for a twelve-month period, during which time the Fellow will rotate through at least two areas of institutional advancement (including alumni relations, development, communications, government relations, and student recruitment). These may include two specific areas within an advancement discipline – such as major gift fundraising and annual fundraising; social media programs for alumni and developing alumni events; publications creation and work with news media, etc.
The host institution agrees to develop and submit an application with a detailed program outline of the assignments to be covered in the 12-month period. This outline will clearly articulate what the institution can and will provide to the Fellow and what it expects from the Fellow. The application should also include a professional development plan, two letters of reference and budget.
The host institution agrees to appoint a senior staff member to oversee the Fellow's training program and ensure appropriate implementation and follow-up.
The host institution agrees to maintain ongoing contact with the Chair of the TD Insurance Meloche Monnex Fellowships in Advancement Selection Committee and to report on the progress of the Fellow's program. The host institution will also ensure the Fellow submits two mid-term reports (November and June) as required to CCAE.
The host institution agrees to provide the Fellow with relevant resource materials and a variety of professional development opportunities including attendance at two CCAE national conferences – one at the beginning and one at the end of the Fellowship term.
The host institution will ensure the Candidate meets all criteria, in particular with respect to eligibility to work in Canada and educational requirements.
The host institution will not submit an application for a Fellow if it has held a TD Insurance Fellow award in the year of, or the year immediately prior to, the current application.
The institution will provide all information requested on the host institution section of the application located in the TD Insurance Meloche Monnex Fellowship in Advancement package.
The Selection Committee will be looking for qualities of intellect, character, aptitude and (to a lesser extent) relevant experience in candidates. The TD Insurance Meloche Monnex Fellowship in Advancement will be awarded to candidates whose personal qualifications and experience are judged to be those best suited to work in the field of educational advancement. Strong consideration will also be given to the host institution's proposed project and training program.
Selection Committee
The Selection Committee will include at least five members: a Chair; one representative from the CCAE Board; a senior advancement professional from one of the previous host institutions; and two additional members selected from the membership of CCAE. A representative from TD will sit as an observer on this Committee.
After the initial screening of applicants, a short list of candidates may, at the discretion of the Committee, be interviewed prior to the final selection. Applicants will be advised of final selections by January 27, 2023, and the formal announcement made at the CCAE Annual General Meeting.
Procedures after Selection
All Fellowships begin no later than June 1. Postponements or advancements may be arranged in exceptional circumstances.
Should a Fellowship candidate withdraw from the program after having been selected, no substitution of candidate will be allowed.
The Selection Committee may select another institution and candidate from the original applications.
"A strong candidate and genuine institutional need will drive the creation of a successful, meaningful Fellowship portfolio,"
Penny Blackwood, Executive Director of Development, Memorial University
In 2014, Terry Cockerline, Co-Chair of the 2015 TD Insurance Meloche Monnex Fellowship in Advancement Selection Committee (Director, Alumni Relations, University of Victoria); and Penny Blackwood (Executive Director of Development, Memorial University), supervisor of a 2013-14 TD Fellow, co-presented a CCAE Professional Service Webinar free to all CCAE member representatives: TD Insurance Meloche Monnex Fellowships in Advancement Success Tips.
Terry's and Penny's Top Tips for a successful TD Insurance Meloche Monnex Fellowship in Advancement:
The Candidate
Treat the search for a TD Insurance Meloche Monnex Fellowship in Advancement candidate like a hiring process, with a flexible job description depending on the candidates' skills and experience.
Look for a highly-qualified candidate with transferable skills:

High energy, motivation, initiative, organization
High engagement, perhaps serving in a student leadership position
Orientation toward advancement
Attachment to your institution
The Fellowship Program
Use a team approach with your candidate to craft the Fellowship structure, playing to the candidate's strengths and interests.
Don't underestimate the amount and quality of work an enthused, well-prepared Fellow can accomplish.
Anticipate a substantial time commitment in preparing the Fellowship application and in supervising the Fellow; it pays off in results.
Set specific goals and deliverables; check in on milestones along the way.
Consider having a peer mentor for the Fellow.
Include a strong professional development plan.
The Application
Put care and thought into the process, as though it were a grant application.
Offer a succinct, persuasive cover letter and statement of support based on institutional need, candidate quality and good fit.
Carefully review and provide feedback on the candidate's responses to the two essay questions.
Provide a balance of complementary letters of recommendation that cover different aspects of the candidate's experience and qualifications.
Address how the Fellowship will change and progress your advancement operation and your school.
How to Apply
Applications are open, deadline is December 15, 2022